| | |
| --- | --- |
| NAME | Titanium sheet,Titanium plate,Titanium alloy sheet,Titanium alloy plate,Titanium GR2 sheet,Titanium Gr5 sheet,Titanium glass sheet |
| STANDARD | ASTM B265, ASME SB265, ASTM F67, ASTM F136, AMS 4902, AMS 4911,ect |
| GRADE | Gr.1,Gr.2,Gr.4,Gr.5(6Al4V),Gr.7,Gr.9,Gr.12,Gr.23,Ti-15333 |
| DIMENSION(mm) | Thk 0.5—100 * W 200-2500 * L800--6000 |
Our Stock of titanium sheet and plate
We have Thk 1.0--25mm * 1000mm * 2000mm standard titanium sheet and plate in large stock.
Application  
Heat exchangers and condensers, Offshore aquaculture, Chemical Industry,
Electroplating equipment , Precision instruments, Other handiwork,  Environmental
protection equipment . Navigation, Aerospace, Auto industry, Medical and Sports
industry,Papermaking textile industry, Electric power industry, Metallurgical industry,
Seawater desalination industry.
Quality Guarantee 
(1) Main quality indicators: chemical composition, mechanical property, tolerance.
(2) With advanced technology & equipment, abundant experiences and skilled workers,
     we process titanium
material in accordance with the International standard.
(3)With our own R&D, Production, Processing and Sales system, we alway
s struggling 
     to supply the products 
with the most excellent quality and the most favorable price
and the be
st service.
(4)The original Mill Test Certificate is available to be attached to the delivery.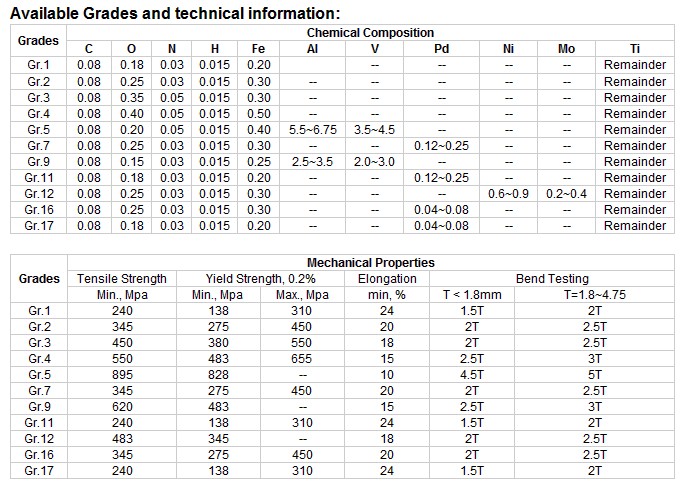 TITANIUM AND TITANIUM ALLOY MATERIALS WE DO  
| | | | | | | | | |
| --- | --- | --- | --- | --- | --- | --- | --- | --- |
| GRADE NAMES |    UNS   |    WIRE     |    BAR    |   SHEET   |   PLATE   |    TUBE     |   PIPE     |  FORGING    |
| Ti Grade 1  | R50250 | √ | √ | √ | √ | √ |   | √ |
| Ti Grade 2 | R50400 | √ | √ | √ | √ | √ | √ | √ |
| Ti Grade 4 | R50700 | √ | √ | √ | √ |   |   | √ |
| Ti Grade 5 (6Al 4V) | R56200 | √ | √ | √ | √ |   |   | √ |
| Ti Grade 7 (0.2Pd) | R52400 |   | √ | √ | √ | √ |   | √ |
| Ti Grade 9 (3Al 2.5V) | R56320 |   | √ | √ | √ | √ |   | √ |
| Ti Grade 12 (0.3Mo 0.8Ni) | R53400 |   | √ | √ | √ |   |   | √ |
| Ti Grade 23 (6Al 4V Eli) | R56401 | √ | √ | √ | √ |   |   | √ |
| Ti 15V 3Cr 3Sn 3Al |   | √ |   | √ |   |   |   |   |